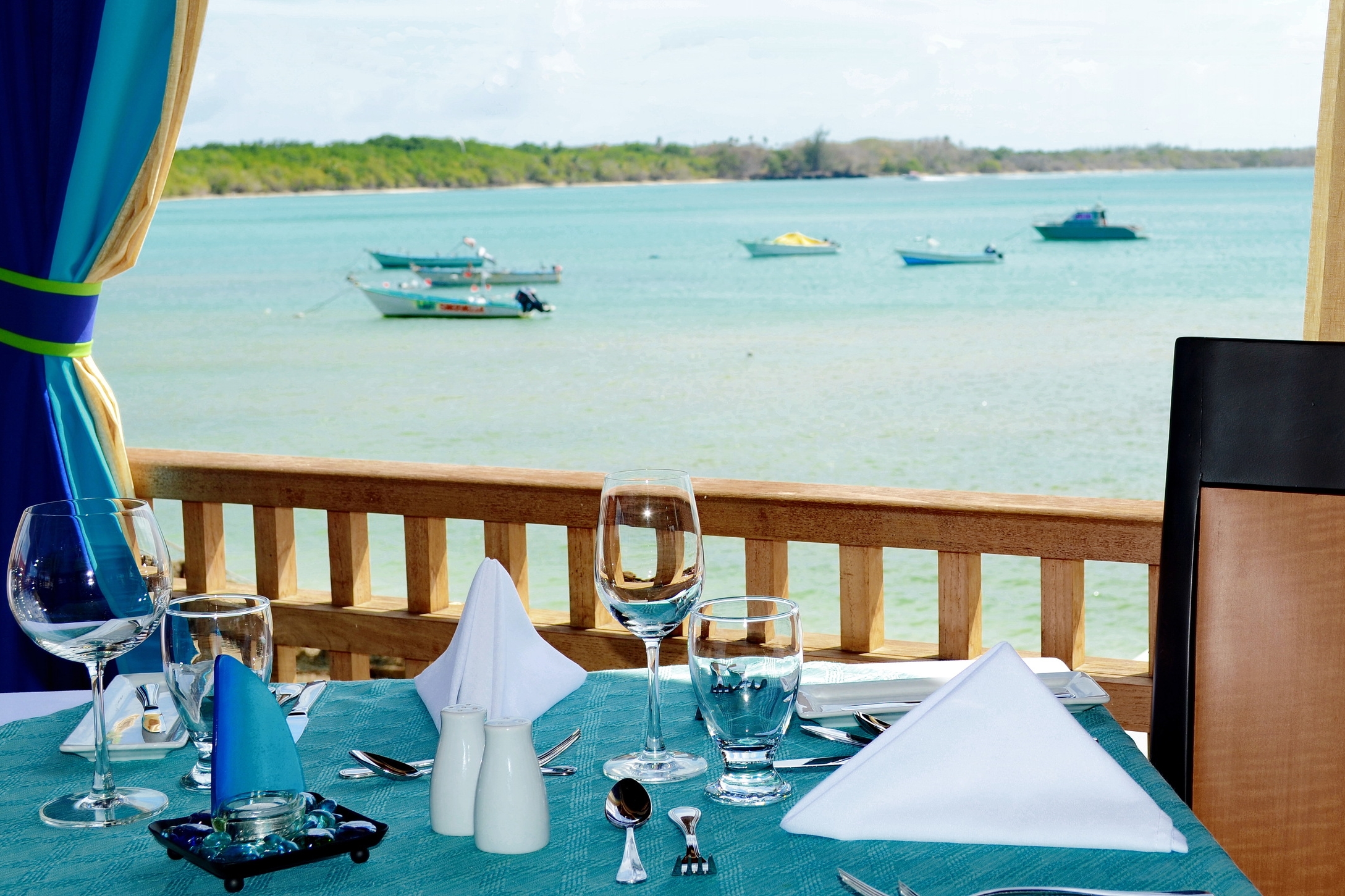 A Fusion oF modern and local cuisine
LOCALLY SOURCED × CRAFTED WITH LOVE
Located in Buccoo Bay, Tobago with breathtaking views of the Buccoo Reef and its environs, Makara offers a unique and special dining experience with its modern Caribbean cuisine.
Location
49 - 55 Auchenskeoch Road
Buccoo Bay, Buccoo Point
Tobago
Hours
Lunch Sun-Sat 12noon–3:00pm
Dinner Sun-Sat 6:00pm-10:00pm
Tues closed
$

45
Soup of the day
Ask your server for today's soup option, made in house and served with fresh bread
$

50
Goat's Cheese and Beet Root Salad
Crispy fried goat's cheese, pickled beet root, toasted walnuts, mixed greens and a honey dijon emulsion
$

45
Home-made Fish Cake
Lime marinated pineapple with a tamarind dressing
$

60
Butterflied Coconut Crusted Shrimp
Coconut breaded jumbo prawns and coconut curry crema served with a fresh tropical salsa
$

65
House Seafood and Vegetable Fritto Misto
Shrimp, fish, calamari and seasonal vegetables fried in a light cornmeal batter, served with charred lime and a lemon herb aioli
$

60
Mini Curry Crab Dumplings
Served in a coconut curry sauce with callaloo puree, roasted "flavor pepper" and coconut vinaigrette
$

55
Makara's Signature Steamed Bao Buns
Korean style fried chicken, buffalo hot sauce, pickled carrot and daikon radish with a chilli relish
$

165
Jerk Spiced Leg and Thigh of Chicken
Curried plantain cream, fried plantains, Caribbean potato hash
$

225
Slow Grilled Rack of Lamb
Moroccan cous cous, pistachio and brown butter gremolata, burnt eggplant and tahini
$

225
10oz Black Angus Rib Eye
Crispy steak cut potatoes, sautéed spinach and mushrooms, horseradish and chimmichuri
$

175
Jumbo Creole Shrimp
Homemade cassava grits, crispy fried courgettes and wilted spinach
$

165
Fish of the Day
Grilled or blackened, caramelized plantains and served with a traditional fisherman's coconut "stew" sauce and crispy "coo-coo" squares
$

255
Makara's Pork and Shrimp Duo
Fall off the bone baby back ribs, homemade barbecue sauce and jumbo fried shrimp. Served with seasoned wedges and dressed pickled red cabbage
$

350
Whole Tobago Spiny Lobsters
Split down the middle, smeared in garlic herb butter and flame grilled. Served with a baked potato and sautéed vegetables
$

165
Makara's Grilled Eggplant and Plantain Lasagna
Coconut milk bechamel and homemade marinara sauce
$

160
Penne Pasta Skillets
Penne pasta tossed in a creamy alfredo sauce with sautéed veggies, mozzarella and parmesan cheese and baked in the oven. Served with garlic bread
$

175
Curried Shrimp
Served with traditional vegetable dishes and steamed rice
$

60
White Sangria.
House white wine, grape-fruit juice, white grape juice, a hint of orange & mint
$

50
Red Sangria
House red wine, raspberry juice, flavors of fruits, a hint of orange & mint.
$

50
Chardonnay
gavilan, monterey, 2012
$

46
Makara Blues
Blue Curacao, vodka and pineapple juice.
$

50
Cosmopolitan
Citrus Vodka, Cointreau,cranberry juice & lime juice.
$

48
Makara Melon
Midori melon, vodka and pineapple juice
$

48
Daiquiri
(Ask about flavors)
$

48
Peach Tree
Peach liquor, vodka, cherry and pineapple juice
$

52
Sour Whiskey
Johnnie Walker Black, Lime juice, bar syrup, soda
$

50
Godmother
Amaretto liquor & vodka
$

50
Fruit Martinis
Vodka, fruit liquor, fruit puree, cranberry/ orange juice
$

48
Makara Blue Margarita.( Blend/Shake)
Blue Curacao, Jose Cuervo Tequila, Cointreau, mango puree &lime juice
$

46
Rum Punch.
White & dark rum, lime juice & flavors of fruits.
$

48
Sex on d Beach
Vodka, peach liquor, pineapple & cranberry juice.
$

50
Sour Amaretto
Amaretto liquor, lime juice & splash of orange juice.
$

55
TomCollins
Bombay Sapphire, lime juice, bar syrup & soda.
$

50
Pina Colada
Gold rum, pina colada mix, coco lopez, pineapple juice & cream
We are located at Buccoo Integrated Facility at 45-55 Auchenskeoch Buccoo Bay Rd, Buccoo, Tobago